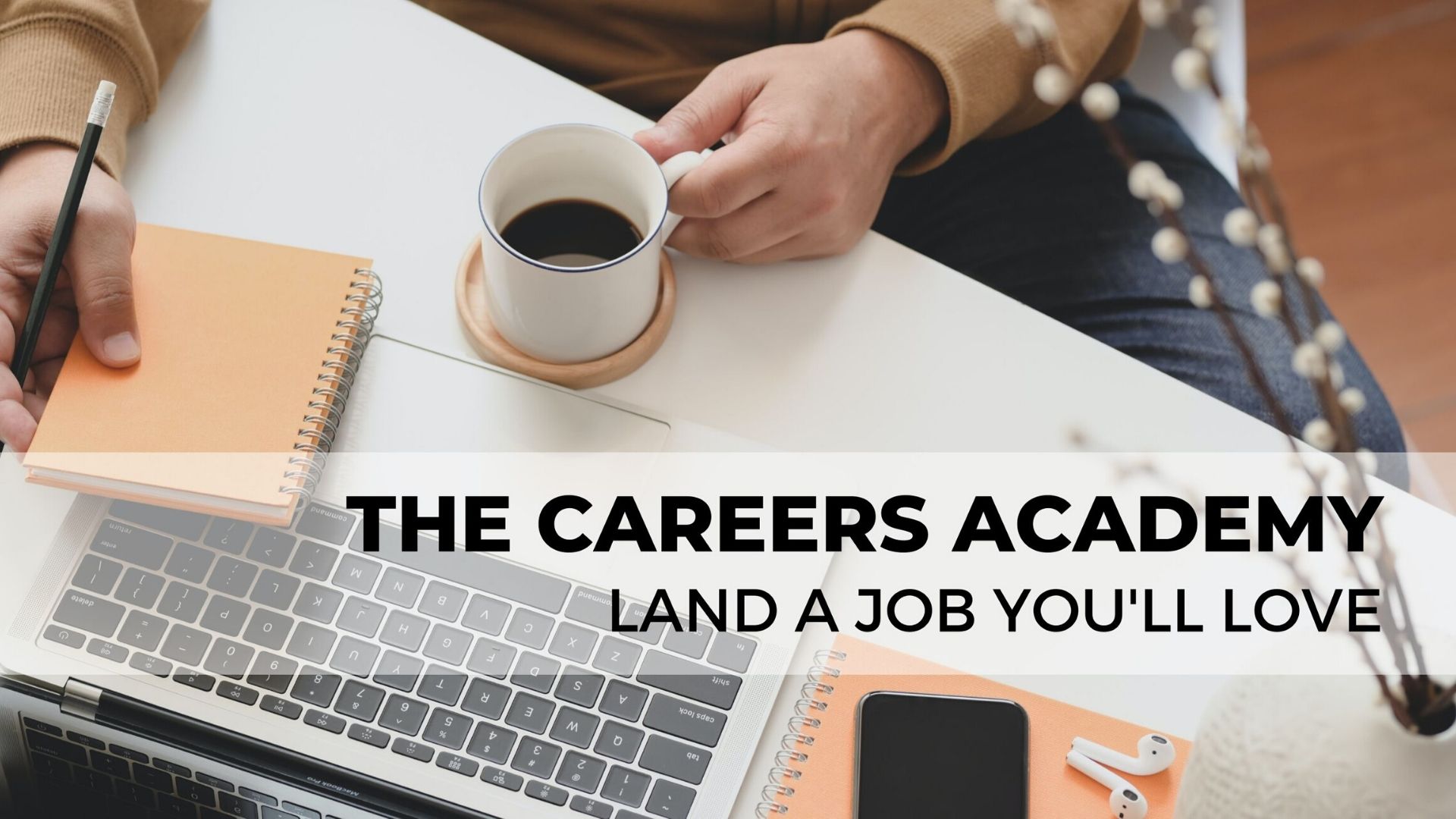 JOIN THE CAREERS ACADEMY
Create a resumé that works. Build your brand on LinkedIn. Land your next job.

I'll support you to create the career you'll love.

As a member of The Careers Academy you will be supported to:

Gain career clarity and confidence about your next career direction

Create a resumé/CV & cover letter that gets past the ATS (Applicant Tracking System)




Build a powerful LinkedIn profile to attract job opportunities and manage your career

Create a powerful personal brand to attract opportunities

Learn how to network like a pro




Leverage all the most effective job search strategies




Prepare thoroughly to ace your job interviews



Yes, you CAN reinvent your career even during the tough times.
Don't struggle on your own, I'll help you to gain the confidence to create a career you'll love!
** Membership opens once a quarter so I can provide enough support and value to my current members.  My next intake opens on 1st Dec 2020 - join the waitlist to be notified when it opens! **
THE CAREERS ACADEMY MEMBERSHIP

"Again, such a well worth and valuable coaching session with you. I learnt so much again. I put down what I wanted to have covered and it was well and truly covered and, of course, a lot more.

I truly appreciate the time and care that you put into the coaching sessions ensuring that we all engage and benefit.

I also want to thank you so much for making me feel so good the way you spoke of me to the others. There are times in my day to day life when things are slow but you always make me feel terrific!"

Phil Strasser

Chef, Author, "Your Meat Mate"
BENEFITS of MEMBERSHIP

✔️   Immediate access to my professional How To Write a Resumé online program (RRP USD299)
✔️   Immediate access to LinkedIn for Career Success online program (RRP USD299)
✔️   A 30-minute one-on-one coaching session to get you on the right track (RRP USD200)
✔️   Job search support resources when you need them 

✔️   Monthly Group Coaching Calls every 2nd Monday
✔️   Webinars to prepare you for a successful career transition

✔️   Networking support in your private accountability group.
✔️   50% off online career management programs  
✔️   20% off 60-minute one-on-one career coaching sessions
Over USD800 of value included with your monthly membership of only USD67/month!

"I was coached by Jane when I returned back to Sydney after 7 years overseas and wanted to change direction in my career. From the very first session, Jane made, what seemed like an insurmountable task, manageable and exciting. Her warm, thoughtful, motivational, confidence building coaching style was exactly what I needed to make a successful career change."

Amy Marais

Talent Acquisition Leader, David Jones

"Jane exudes genuine warmth, positivity and passion for helping others. In a time of transition, Jane helped me to more deeply understand my career anchors and values, and make a critical decision about the next phase of my career."

Sally Giblin

Sustainability Speaker, Start-Up Founder

"I've had the privilege of attending a number of great workshops put on by General Assembly, RogenSi, Digital Brief and Sales ITV. All of these were lead by great facilitators but Jane Jackson's Career workshop, for me surpassed all of these. Jane was evidently passionate, invested and motivating throughout the day. I cannot recommend Jane highly enough."

Daniel Kerr

Senior Digital Specialist

"I had the good fortune to access Jane's on-line Career Program.

What an incredibly positive and practical experience this was! The reassurance of Jane's voice guiding me through the process was as if she was sitting next to me, the format was concise yet comprehensive.
Jane shines through in her self-paced on-line program, which is so affordable!"

Greg Smith

Operations Executive

"Jane provides the most professional and insightful career advice that allows you to clarify your working goals and take meaningful and purposeful steps to achieve them."

Dr Warwick Wearing

Research Specialist

"Jane has expertly guided me back to my career. Jane very practically cut to the heart of the issues, and guided me through using the tools and resources to have the career I dreamt of."

Sue Seymour

Learning & Development Manager

"At a time when I didn't know what do next in my career Jane helped me reassess my career and life values, and helped me to explore different avenues for my future career path."

Jo Green

Coach

"Jane's relaxed manner, and engaging style motivates people to embrace change in their lives as a positive opportunity not something to fear."

Anthony Wilson

CEO Proximity Risk & Assurance

"I thought Jane was brilliant, and I really enjoyed the real life examples she used when explaining different topics. I learn best through story-telling, so her approach worked well with me, and it was evident that she really is a subject matter expert!"

Lydia Hickson

Change & Retention Manager

"Jane's an amazing webinar presenter. She's warm, engaging, focused and really cares about the development of all the people on the call."

Ian Nicholson

Principal, Nicholson Innovation
Join my waitlist to be notified of the next intake

Receive valuable career management and job search news while you wait!